Here are the tourdates for our 2017 USA tour! Gonna be hot! Some unique shows, some great stuff going on!!!!
Midwest
June 22nd 210 Restaurant, Highwood, IL (tour presentation show)
June 23rd Wilbert's Food and Music, Cleveland, OH
June 24th Founder's Brewery, Grand Rapids, MI
June 25th Summerdance Festival, Grant Park, Chicago, IL
June 27th Skellington Manor, Davenport, IA
June 28th The Wild Hare, Chicago, IL
June 29th Jazz in the Park Festival, Milwaukee, WI
June 30th The Cedar Cultural Center, Minneapolis, MN
July 1st The Red Herring, Duluth, MN
July 2nd The Independent Media Center, Urbana, IL*
*One hour masterclass offered by AAbE before the show
July 3rd The Emporium Wicker Park, Chicago, IL (Midwest tour closer)*
*Combined show with ESSO!, one set of AAbE and ESSO! music, one set of Fela music, both with musicians from both bands together.
West Coast
July 6th Humboldt Brewery, Arcata, CA
July 7th The Boom Boom Room, San Francisco, CA
July 8th The Ashkenaz, Berkeley, CA
July 9th Concerts on the Commons Beach, Lake Tahoe, CA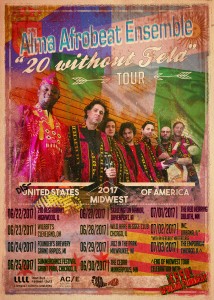 This tour made possible thanks to Acción Cultural and the Institut Ramon Llull